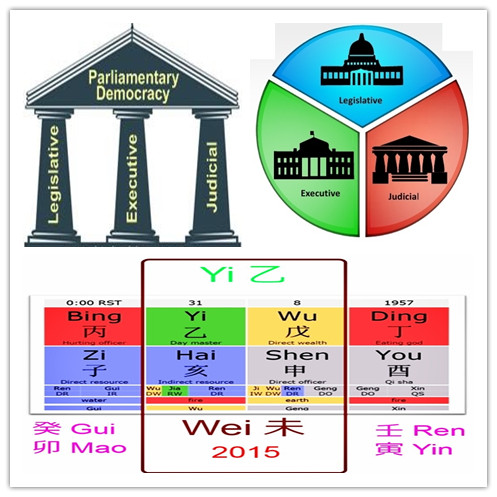 Malaysia Bazi 2015 By Master Soon
After 04 Feb 2015, Malaysia BaZi theorizes that 2015 is year of cross over into New Ten Year Luck Cycle, Ren Yin 壬寅 (15 April 2015-  14 April 2025) , which will leave behind Gui Mao 癸卯 (15 April 2005 – 14 April 2015) luck cycle forever.
Malaysia BaZi 2015, is the year carries both TEN LUCK CYCLES, which brings various fluctuations to the nation for both sides of positive and negative.
Green Wood Goat Year, Yi Wei乙未 will arrives on 04 Feb 2015. This would blend Hai-Mao-Wei 亥卯未 to strength Wood element in accordance as per chart above.
Wood element is friends, compatriots, comrades, companions and colleagues in accordance to Malaysia BaZi.
In Malaysia special polity system of separation of power, among legislative, judicial and executive;  always executive is considered as government servant and compatriots to the government.
Therefore, Malaysia BaZi 2015 theorizes that a RISE of Executive Power is highly possible to happen after 04 Feb 2015.
Among thousand departments of executive, 10 segments as listed below most probably would become the  spot light through out 2015 for Malaysia daily platform.
Legal Professionals & Secretaries
Religious Officials Professionals
Civil Administrative & Executive Secretaries
Taxation & Excise Official Professionals
Government Licensing Officials Professionals
Custom, Border & Immigration Inspector Professionals
Civil Official Professionals
Government Social Benefits Officials Professionals
Public Defense Professionals
Regulatory Government Professionals In General
 Nevertheless, 2015 Wood Goat only brings 7% of water element. Water Element is Resource 印绶 to Malaysia BaZi. Resource means legitimacy, authorization and mandate. 
Extremely weak  resource (7%water element) could be translated as the people and public would post skepticism, criticisms, queries, suspicions and doubts when the executive carry out their duties.  
Profile of Master Soon
Having completed years of research in the

"unknown, untold and unconventional"

,Master Soon, shares meaningful insights on"How to redesign & reinvent your luck". His method on "Destiny Reinvention" to corporate level on top of social strata until personal level at various segments of the public has touched  many souls.
 His proven UNknown "destiny make over" method has won him fame & clients in China, India, Malaysia, Thailand, Singapore, Hong Kong, Macau, Taiwan & Switzerland. 
" Metaphysical Destiny Revivalism" is his blissful psyche power.
"Metaphysical Luck Renewal" is his unconventional motto.
"Destiny Victory" is his audiences' satisfaction.
Master Soon has completed more than 20 years in researching the established and esoteric facets of Chinese metaphysics and mind strategies, plus unorthodox patterns of Destiny Reinventing method.
and has years to his name, specializing in business feng shui consultation apart from being an adviser in enlightening and inspiring using his Untold Chinese metaphysics. He has also been invited by corporationsin Malaysia, Singapore, Switzerland, India, Thailand, Hong Kong and China to share his knowledge. Some of his past seminars include topics on
Riding the Horse Year of 2014

Unknown yet  Effective Feng Shui Secrets
Unknown Monetary Zone
Untold Treasure Belt
Unorthodox  Way of Destiny Re-design
Untold Secrets of Luck Re-direction

Property Feng Shui for Investors,

Property Projection by Yijing Prediction

Corporate Feng Shui for Top Management

Lantern Festival Long Term Money




 His proven unconventional method in luck design is effective, striking and impressive.