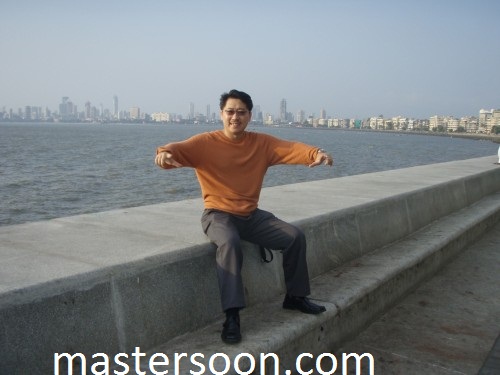 In conjuction of my next visit to Mumbai in April 2010 for conducting Feng Shui and Yijing workshops trainning, a few articles which talk this coming workshop and about feng shui in this great nation, India, will be posted for your reference.  In this article, I am going to discuss about feng shui of Mumbai.
Mumbai, formerly known as Bombay is the commercial and financial center of India, with a population of about 14 million. The huge city is growing by many thousand hopeful immigrants from predominantly rural areas each day. Interestingly, Mumbai's particular topography – it is a long, narrow peninsula – meant that the constantly needed extension of the city limits was possible in one direction only, northwards.
Basically, Mumbai is a group of Seven Islands and reclamation joined the seven small islands into one, grafting a prototype for today's multifarious metropolis. Mumbai was one of the British Presidency towns. Therefore, the buildings here are of British era and built in Gothic style. Mumbai lies on India's west coast in the state of Maharashtra facing the Arabian Sea. The city occupies an area of 440 sq km. and one fourth of the city lies below sea level. People of various caste, culture, and religion inhabit the city, and due to this diversification the customs, languages, and even the food is of infinite variety. And personally speaking, I love the food very much. The centre of Mumbai is at the southern end of the peninsula, where commercial life developed and population density and land prices are highest.
However in term of land form feng shui, Mumbai's Dragon Mountain is running from North East 东北 to South West 西南. The bay, Queen's necklace is the dragon opening mouth. Ancient Feng Shui classic has written,
"When Qi meets the wind, it is scattered; when it meets water, it is retained"
气见风者散,遇水则止。
Feng Shui is a technique how to MANAGE the Qi.  An experienced Feng Shui Master collects good or auspicious Qi to prevent it from being scattered so that mankind can benefit from its positive effects.
The word feng-shui is often translated as "Wind and Water. "Feng" stands for wind, and "shui" for water. The ancient burial classic, "Zangshu," 葬书 (The Book of Burial) by the writer Guo Pu 郭璞 is said to be the first instance that the term feng-shui occurs. It appeared around 300 AD. What that book stated is that Qi, the precious life energy is destroyed by wind, and collected by water. So the art of feng-shui is about protecting the Qi from dispersal by wind, and saving or storing it by water.
My visit in Sept 09 to Mumbai had brought me the Queen's necklace. I would like to draw those feng shui enthusiasts, that, do you think the prosperity of Mumbai is connected with South Western Dragon Mouth? If your answer is due to Period 8 and indirector god water, then, you understanding of feng shui is questionable and you command of feng shui is sceptical.  How do you relate the booming entertainment industry, Bollywood here? Let me tell you, flying system , bazhai system and xuan kong da gua system are NOT enough to explain these phenomenons.
If you want to get a REAL and FULL knowledge of feng shui, come and join us, Oriental Wisdom in April 2010, Mumbai.
Reserve your seat now !
Contact Tel: +91-98-23880808/98-23884000 AND +91-712-2287872 /2287866