Archives for September 2021
《东方智慧》Oriental Wisdom – Master Soon
WhatsApp : +60125603333
电邮 Email: [email protected]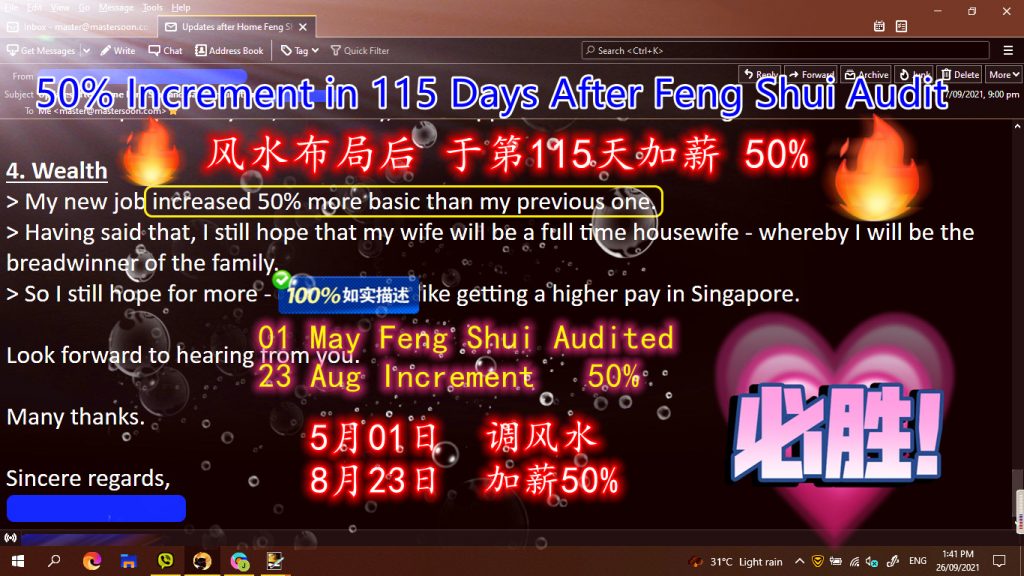 This is a real case study that my client updated me on 17 Sept 2021.
He mentioned that he got a 50% increment for his basic, 115 days after the feng shui audit.
There was no door tilting, no bed realignment, no stove replacement, and no renovation.
But only  Heart  Cultivation !
没有调门、没有调床、没有调灶、没有装修!
只有《调心》 ;因为佛说: " 一切谓心造!"
Why you do not need to tilt your door or remove your bed orientation?
Because physicality that locks our mind/destiny/luck/happiness/life, including the directional dimension of compass/door/bed/kitchen/stove, is not only temporary, transient, illusory(misleading) but also directing to WRONG view & Distorted Perspective.
佛说 : " 一切有为法,如梦幻泡影,如露亦如电,应作如是观"。
You also could achieve your goal by Changing & Cultivating your Heart.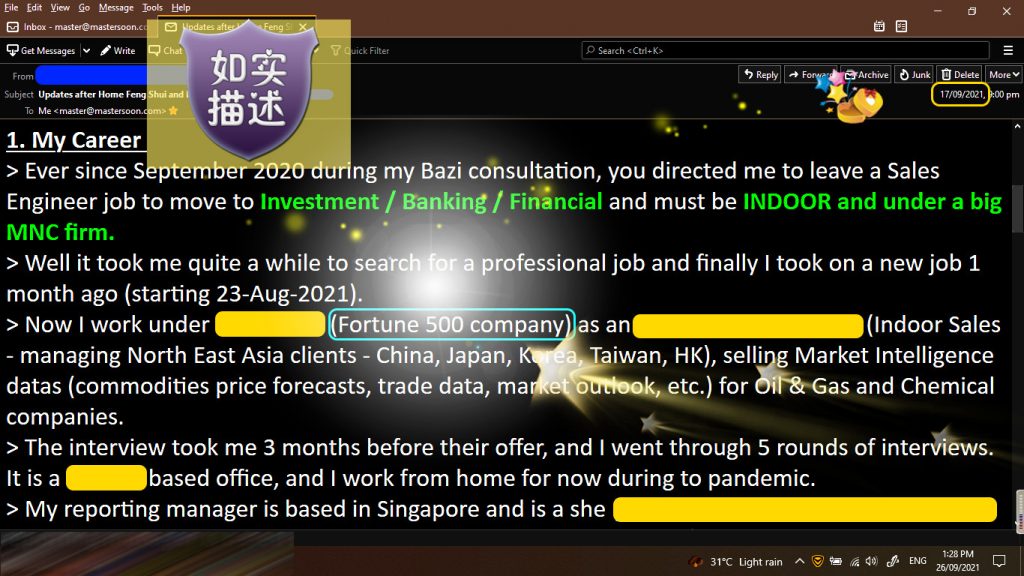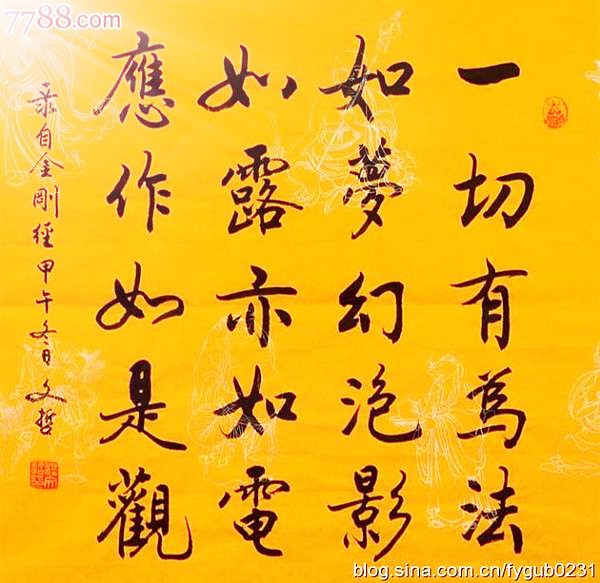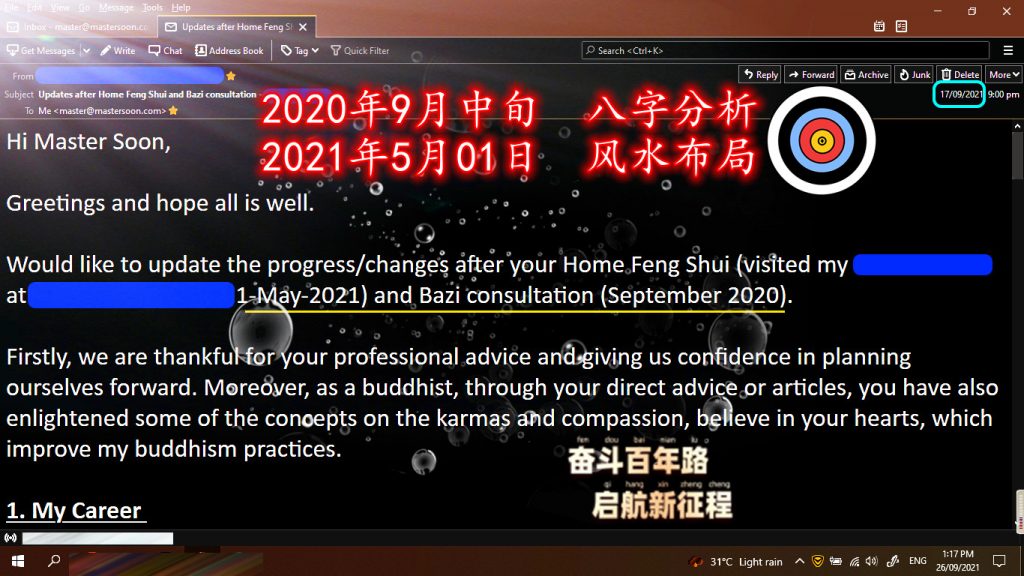 《东方智慧》Oriental Wisdom – Master Soon
WhatsApp : +60125603333
电邮 Email: [email protected]




The crisis that happens to The Evergrande Group, China's second-largest property developer by sales, is a  wake-up call to the property investors.
This happens less than 9 months after the most recent

Great Conjunction(21 Dec 2020)

.
Great Conjunction is the ONLY marking that signifies the change of period; from Period 8(Earth) to

Period 9 (Fire)

in this case.
However, if you follow the outdated timeline given by

classical feng shui

, which is in Feb 2024; then you are mostly sharing the fate like  The Evergrande Group. 
Classical Feng Shui timeline is inaccurate by 4 years(getting longer) because it does not calibrate with modern astronomy; although Classical Feng Shui agrees that Great Conjunction 土木相会 is the cutting point for the change of the Period.
Sadly but safely to say, the current timeline adopted/applied by feng shui masters is OUT by 4 years. 
The real estate market has lost its

glorious era(Earth Element 2000 – 2020)

globally, and returning to rational purchase instead of speculation and manipulation. 
Period 9 LI 离 consist of 2 parts; upper and lower

Upper part 凶: Danger and Risk 
Lower part 内: Internal,Empty 

The whole trigram looks like an empty box

空盒

, empty building

空楼

, empty

空间隔离

container, or coffin

棺椁

.
Coffin 棺材 refers to the victims of Covid 19.
Empty Building refers to the empty shopping malls

空挡的建筑物

.
Empty container refers to the lunch box, food pack, food delivery

打包、饭盒

.
The empty box also refers to partition for social distancing 隔离空间
Aren't all these parts of our life since the year 2020?
We are already in Period 9; although the feng shui timeline says the opposite…..
Be scientific when you apply feng shui; avoid inaccuracy & superstition.
《东方智慧》Oriental Wisdom – Master Soon
WhatsApp : +60125603333
电邮 Email: [email protected]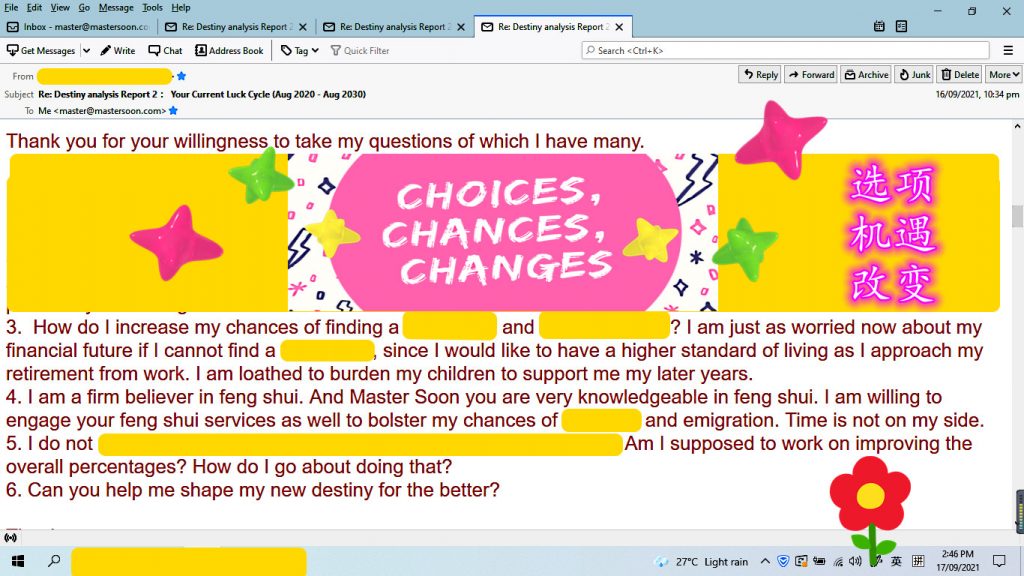 《东方智慧》Oriental Wisdom – Master Soon
WhatsApp : +60125603333
电邮 Email: [email protected]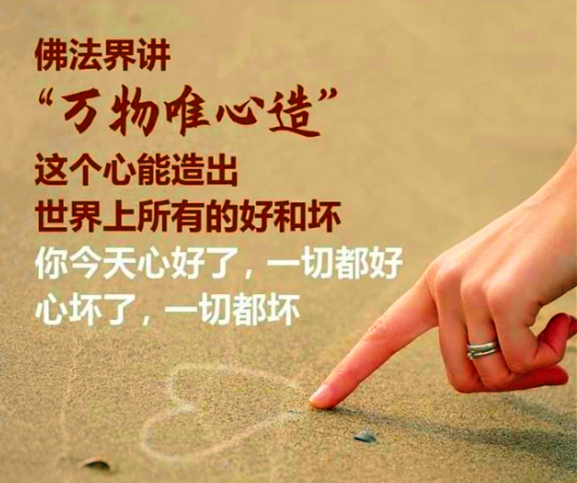 According to Buddhism, the superpower is in your heart.

一切唯心造. 

Based on this, you do not need to do feng shui renovation, no need for feng shui placement; but throw your heart you can change your luck.
Below is a recent example of how I make use of this Buddhistic teaching in helping my client by,
Turning family members to be a WALKING feng shui 人就是走动的风水能量 for supporting each other !
You can learn some real kung fu if you read the attachment below carefully.


Your power is limited and constraint by your knowledge. 所知障!
The more you know, the more your power is restricted & limited.
You need to break away from your brain, but seeing the world with your HEART.

Then you can send your power thru email….. 

Everyone can do this. 

You are the POWER. 

The door of your superpower is in your heart, but not your feng shui door.
If a man claimed himself to be a master, yet he tries to cover up this very truth in order to keep you in the darkness; it simply means that he has some cunning agenda over you. 
《东方智慧》Oriental Wisdom – Master Soon
WhatsApp : +60125603333
电邮 Email: [email protected]





We know each other since the year 2011.
From a single, handsome, and highly educated gentleman…. eventually
He bought a bungalow before he got married & set up his family.
Now, this couple is happy with their 3rd child.
I was entrusted by them for metaphysical services like bungalow feng shui, BaZi, and Name Selection for their children.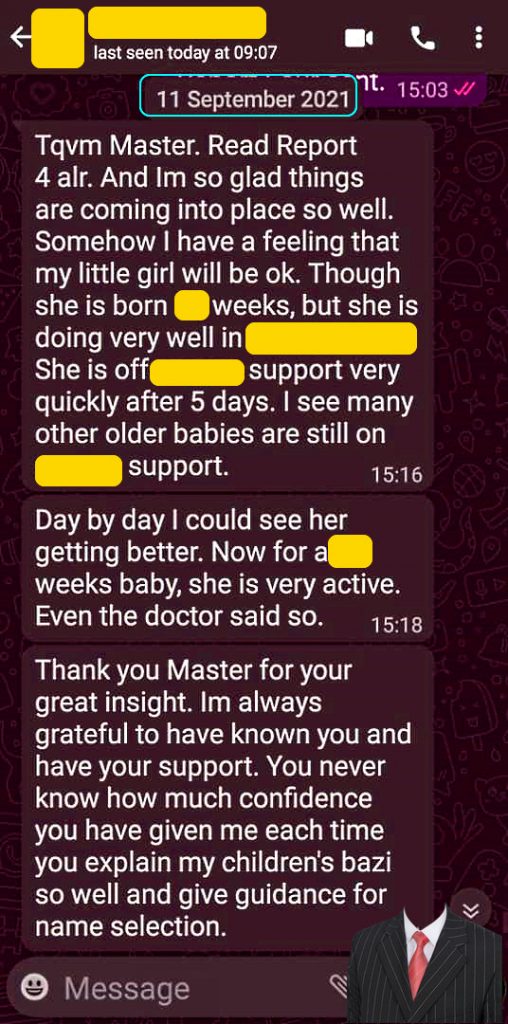 《东方智慧》Oriental Wisdom – Master Soon
WhatsApp : +60125603333
电邮 Email: [email protected]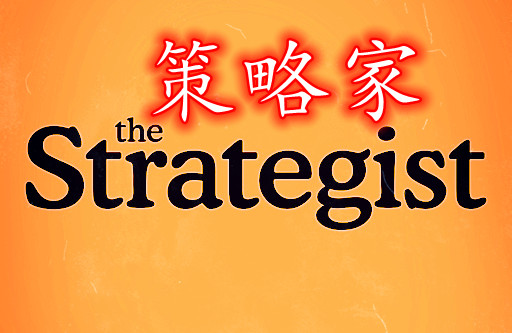 A successful investor or businessman

runs & operates his business/investment practically in reality.
A business theorist like a lecturer teaches in a college where he has never put his theories into practical reality.
A business theorist has no idea whether his theory is workable in reality if compared to a practicing businessman/investor.
Rather, most of the true practicing businessmen/investors know much better than business lecturers in terms of technical know-how.
A truly successful practicing businessman

does not need

to conduct classes for a fee as a source of income.
Why does an investor want to reveal his "secrets"? No way!
For this reason, I have stopped feng shui teaching since 2015.
Because the value & reward I could generate from the practical battlefield/real world is much higher and satisfactory than that in the class.
Moreover, there are a lot of superstitions within feng shui.
In order to make the students keep coming back for classes after classes, those superstitions are rebranded, made anew & included to make the syllabus everlasting long.
This is what happens in the feng shui industry.
Attached is a short message where I deal with my client for metaphysical strategies.
Our ancient metaphysicians like

姜子牙 Jiang Zi Ya
张良 Zhang Liang
郭璞 Guo Pu
李淳風 Li Chun Feng
袁天罡 Yuan Tian Gang
诸葛亮 Zhu Ge Liang
刘伯温 Liu Bo Wen
 and many MORE

They had proven themselves in politics for power, wealth, authority. 
Then why modern feng shui masters cannot do the same in socio-economics?
If you truly have feng shui kung fu, you should prove yourself in reality, but not juicing your students in classes for unproven superstitions.
The major factor that shapes your destiny as Malaysian Chinese in this country is your identity as Kafir under Islam. It is nothing to do with your superstitious hypothesis.
The reason why Malaysian Chinese turn to feng shui & numerology for salvation is simply due to their frustration and hopelessness caused by discrimination cutting along religious lines. 
Sadly, they are turning

in the wrong direction for the refuge……

Being discriminated against and marginalized

is the price you Malaysian Chinese pay for maintaining your racial identity, root, and culture.
To get rid of this discrimination is through wisdom and strategies; but not feng shui or numerology.
《东方智慧》Oriental Wisdom – Master Soon
WhatsApp : +60125603333
电邮 Email: [email protected]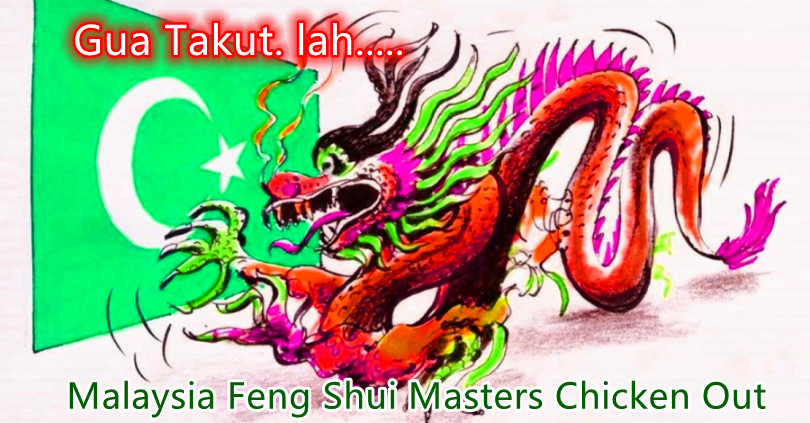 Why in front of Islam, Malaysian Feng Shui Masters suddenly becoming feng shui coward & feng shui chicken or feng shui mickey mouse; almost instantly?
While they claim to be masters & intellectuals among Malaysian Chinese?
How come those respected feng shui masters in the Malaysian Chinese community; becoming feng shui chickens in the ocean of Islam in Malaysia?
How come Malaysian feng shui masters talk about Money, Wealth, Power, Education, Career, etc…
but becoming feng shui roosted chickens on the plates after the year 1969 when discriminatory policies have been implemented systematically in

Public Sector, Government Positions, and Education

?
What are the shameful & disgraceful aspects of Power, Authority, Money & Career, Business that Malaysian feng shui masters talk & teach about in their classes;  when they themselves & their offspring are among the victims suffer from the Apartheid-like discrimination imposed after 1969?
Can a master that

himself suffers terribly from the curse

of discrimination

teach you

to break free from the curse of Kafir?
If you have no idea of what Kafir(Non-Muslim) is about, then you must be teaching impractical jokes in the classes;  as the destiny for each and, every non-muslim in Malaysia is already defined in Al-Quran?
This is not a matter of belief. This

has happened practically

in Malaysia daily life after 1969 ;
No feng shui master can change this because no chicken can perform a miracle;
But this miracle only could be taught(with a fee) in feng shui

chicken

classes, sarcastically.
Because feng shui chickens get their monthly salary(chicken rice) thru classes.
If Feng Shui is Money Generator

or

Money Printing Machine as claimed by Malaysia feng shui masters, then why very great in the amount of feng shui masters rely on feng shui Theory Classes & Teachings to earn their living in Malaysia?
Do feng shui masters practically rely MORE on teachings & classes as the primary(main) source of income rather than the effectiveness of their home feng shui directly?
Can Malaysia feng shui masters survive

WITHOUT

cheap sell their recipe for a few hundred; since claiming their feng shui formula guarantee Millions if not Billions in return?
If Feng Shui is so powerful as claimed by the overwhelming majority of feng shui masters in Malaysia,  then

why always chicken out when facing

Islamic scholars?
Why is Muslim

WITHOUT feng shui

is the overlord & the ruler of  Malaysia?
Why do you claim to have the

superpower thru feng shui

but suffer from discrimination in All aspects of your life in Malaysia?
If you still believe in Malaysia feng shui masters(chicken) by now, then you must be

one of the chickens if not a joker

.
The point for Malaysian Chinese Destiny is about

Islam

& Malay identity but not feng shui lah….

Feng Shui classes

are meant for juicing your money lah…. haha
Why Malaysian Feng Shui Masters Run Away from Islam & Chicken Out In Facing Inequality?
《东方智慧》Oriental Wisdom – Master Soon
WhatsApp : +60125603333
电邮 Email: [email protected]