Russia & Turkey

were 2 countries precisely predicted and highlighted TOGETHER under point

Number 19

in Master Soon article dated

04 November 2014

under Title of

"World Politics 2015 by BaZi and Yijing Reading(1).
俄罗斯和土耳其二国是为2015年热门新闻,已在去年2014年11月04日孙老师的文章"2015年国际政治-八字结合易经"预测(1)第19点中阐明述说。
Syrian /Refugees Migration

to Europe in 2015 which is seen by westerners as a

THREAT

;  Obama leadership which is perceived as failure by most US citizens,

Paris Crisis 2015

as a symbol of multiculturalism failure adopted by the West, and many other signs of Western political power setbacks; also had been covered by Point

Number 20

in the same article.
2015涌入欧洲的难民潮而被许多西方人士视为安全威胁、奥巴马被美国人看为领导无方、巴黎爆炸事件被视为西方宽容多元文化之失败、还有诸多象征西方主导权的没落;也已经在该文章第20点涵盖述说。
The sharp increase of conflict between
Muslim and Christian

also been spotlighted by

Point 15 & Point 18

.
穆斯林和基督徒矛盾不断尖锐化也于第15点和第18点剖解交代。
Most of what are happening during 2015 in the WEST had been mentioned and highlighted in Master Soon prediction for "World Politics 2015 Prediction" dated on
04 Nov 2014.
文章许多2015年之预测;经已发生在西方国家。
欲知详情,请游览以下文章。
You may counter check the further details at : http://www.mastersoon.com/2014/11/04/world-of-2015-by-bazi-yijing-reading-1/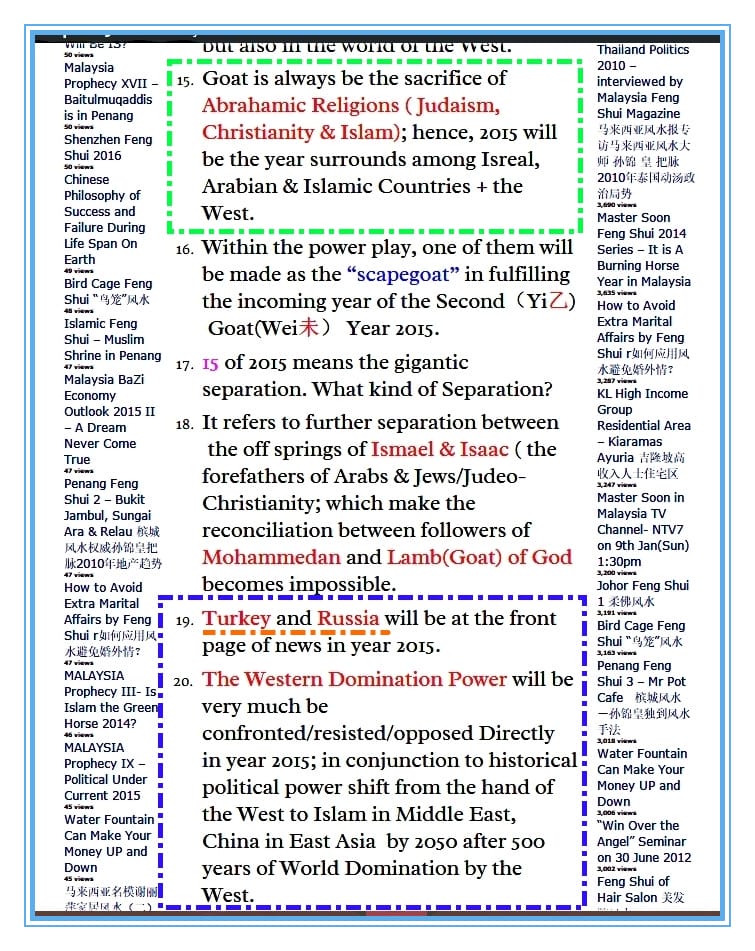 Profile of Master Soon
Having completed years of research in the "unknown, untold and unconventional",Master Soon, shares meaningful insights on"How to redesign & reinvent your luck". His method on "Destiny Reinvention" to corporate level on top of social strata until personal level at various segments of the public has touched  many souls.
 His proven 

UNknown

 "destiny make over" method has won him fame & clients in China, India, Malaysia, Thailand, Singapore, Hong Kong, Macau, Taiwan & Switzerland.
Contact: master@mastersoon.com or WhatApp: 6012 560 3333