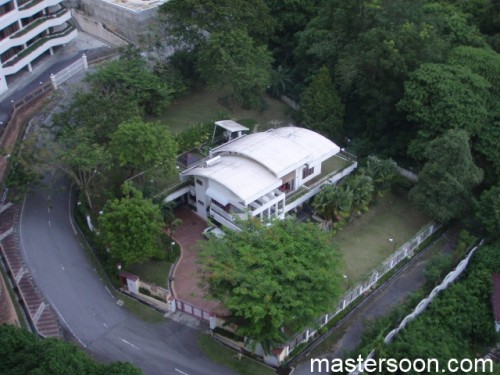 This Mansion is located at Bukit Jambul, Penang. It is near to Equatorial Hotel. This is an ideal bungalow feng shui. The positive points are as below:
1.  The Sitting is higher and the facing is low.
2.  It is embraced like a wok topographically and symbolically.
3.  The trees at the back strengthen the Back Turtle.
4.  There is an equally spacious frontage for Qi collection.
5.  The semi – round shape of the structure symbolizes metal which is good for money.
6.  The road embraces the property in a very gentle manner.
7.  The main gate is opened to the rear side which is a major road access.
这是一个理想的豪宅风水。它正面风水的优点如下:
1。它的座的位置比较高,而向相对的较低。
2。这地形环抱像椭圆形的锅具有拥抱的象征性。
3。在后面的树木加强了它的玄武(后靠)
4。有一个同样宽敞的明堂–聚气。
5。建筑结构形状是半圆象征了金属,也象征了钱财。
6。道路环抱也象征聚财。
7。正门对着大道而开。