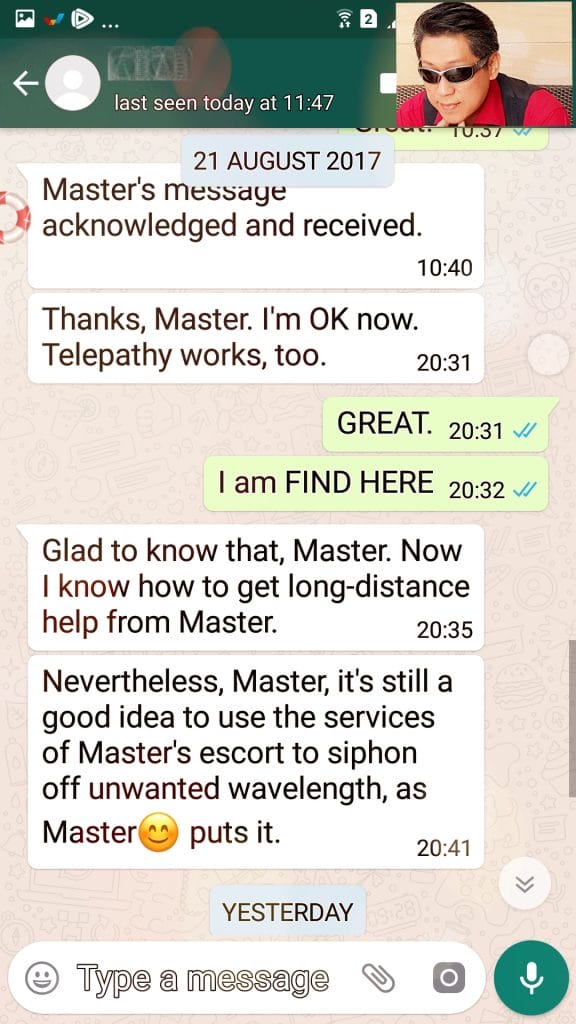 Telepathy (from the Greek τῆλε, tele meaning "distant" and πάθος, pathos or -patheia meaning "feeling, perception, passion, affliction, experience") is the purported transmission of information from one person to another without using any of our known sensory channels or physical interaction.
天人感应之说,起源自儒家六经中的《尚书·洪范》。是中国古代儒教神学术语。中国哲学中关于天人关系的一种唯心主义学说。指天意与人事的交感相应。认为天能影响人事、预示灾祥,人的行为也能感应上天 …
A君 : 孙老师的讯息经已收到。 我很好。"远程感应" 也确实奏效。
孙老师 : 非常棒。 我在这很好。
A君 :很高兴老师安好。现在我知道如何应用孙老师的"远程"帮助。无论如何,聘请孙老师陪伴到实地驱赶不利的邪气和优化气场还是很好的抉择。
Profile of Master Soon
Having completed years of research in the "unknown, untold and unconventional",Master Soon, shares meaningful insights on "How to redesign & reinvent your luck". His method on "Destiny Reinvention" to corporate level on top of social strata until personal level at various segments of the public has touched  many souls.
His proven UNknown "destiny make over" method has won him fame & clients in China, India, Malaysia, Thailand, Singapore, Hong Kong, Macau, Taiwan & Switzerland. 
" Metaphysical Destiny Revivalism" is his blissful psyche power.
"Metaphysical Luck Renewal" is his unconventional motto.
"Destiny Victory" is his audience's' satisfaction.
Master Soon has completed more than 20 years in researching the established and esoteric facets of Chinese metaphysics and mind strategies, plus unorthodox patterns of Destiny Reinventing method.
and has years to his name, specializing in business feng shui consultation apart from being an adviser in enlightening and inspiring using his Untold Chinese metaphysics. He has also been invited by corporations in Malaysia, Singapore, Switzerland, India, Thailand, Hong Kong and China to share his knowledge. Some of his past seminars include topics on
Riding the Horse Year of 2014

Unknown yet  Effective Feng Shui Secrets
Unknown Monetary Zone
Untold Treasure Belt
Unorthodox  Way of Destiny Re-design
Untold Secrets of Luck Re-direction

Property Feng Shui for Investors,

Property Projection by Yijing Prediction

Corporate Feng Shui for Top Management

Lantern Festival Long Term Money




 His proven unconventional method in luck design is effective, striking and impressive.

 Contact: Email :

 

master@mastersoon.com or 

WhatsApp +

6012 560 3333