On Feb the 4th 2014, I had written an article concerning the destiny of Malaysia in 2014 through :   http://www.mastersoon.com/2014/02/04/master-soon-feng-shui-2014-series-it-is-a-burning-horse-year-in-malaysia/ as below.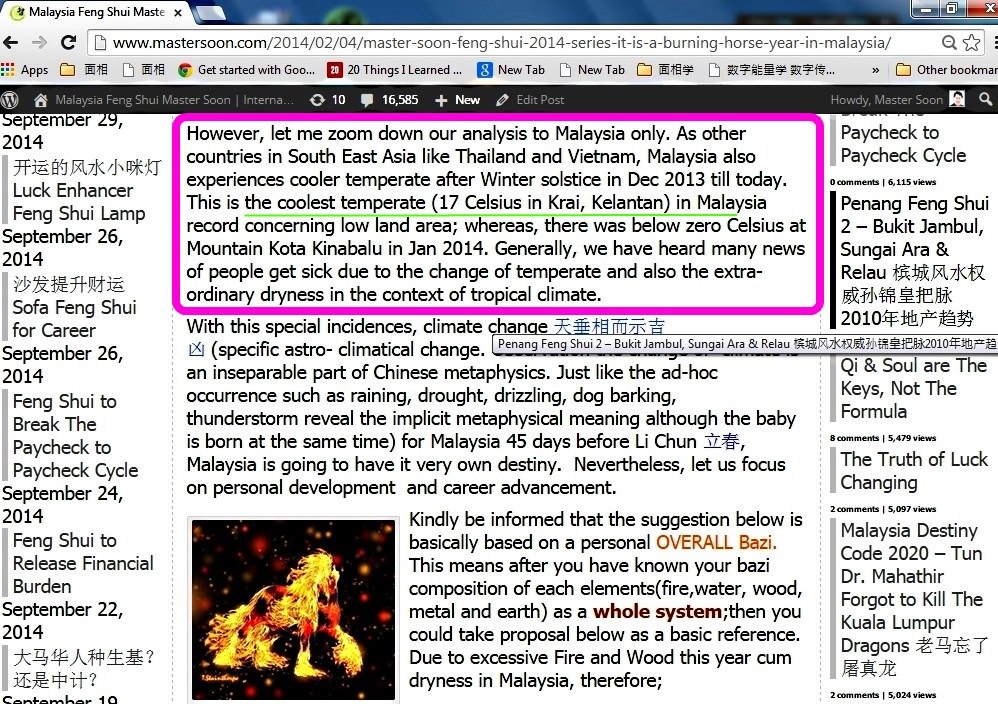 Malaysia Bazi 2014 By Master Soon 1
In the article, I pointed out a few strange occurrences in Malaysia climate that had happened during Dec 2013, prior to 2014 which is full of turbulence to Malaysia socio-economy and politics, and ultimately shapes the state of happiness / sadness Malaysians endure throughout 2014.
If you refer to the text within the green box that I have pointed out about the extreme low temperature in Krai ( North East  area of Peninsula Malaya) recorded at 17 degree Celsius in low land of Malaysia. Kindly be noted that as a tropical country like Malaysia, the daily temperature is always constant between 24 degree Celsius in the night and 34 Celsius in the daytime in all low land area in Malaysia.  17 Degree Celsius is A breaking record for low land in Malaysia….
As a Chinese metaphysician, paying attention to climate change is always part of our job because nature does always provide hidden message for the world we are living in. 
What the most surprising incidence happened within 35 days after I had pointed out the issue of climate change; on 08 Mac 2014, a new world breaking record, the WORLD AIRLINE record;  Malaysia Aircraft MH370 was reportedly missing in the ZONE air of North East Malaysia, the Zone where extreme low temperature had been recorded in Dec 2013. 
Strange Climate recorded, follows by World Airline Record ; aircraft missing in the SAME ZONE.  Kindly refer to the map below ( Box of Last Known Location)
My points are :
BaZi calculation MUST take climatic change into consideration. This has been part of unavoidable Chinese Metaphysics Prediction since thousands of years. 
Same BaZi, yet, differences of external factors like rain fall, flood, tsunami, fire, thunder, climate change, earthquake, dryness, typhoon, tornado are hidden messages.
Your Personal Luck starts to show signs and symptoms every year around

Winter Solstics, or 21/22 December

.
What you experience around 21 Dec to next year Jan has metaphysical meaning to your LUCK to come in the new year.
It is too late to wait till Li Chun

立春

Beginning of Spring (4 Feb) to justify your luck.
For example, low temperature in North East of Malaysia in Dec 2013, foretold tragedy in that particular ZONE; whereas on Li Chun 立春, the temperature in

ZONE of MH370 Disappearance

did NOT show abnormal signs…. By the time of Li Chun,

立春

, divine & metaphysical messages is no longer SPEAKING.
Then, BaZi reading PURELY based on Li Chun

立春

could no longer provide FULL SPECTRUM into your REAL DESTINY.
Stay Tuned for MORE exciting news to come……..  Profile of Master Soon Having completed years of research in the "unknown, untold and unconventional", Master Soon, shares meaningful insights on "How to redesign & reinvent your luck". His method on "Destiny Reinvention" to corporate level on top of social strata until personal level at various segments of the public has touched many souls. His proven UNknown "destiny make over"  method has won him fame & clients in China, India, Malaysia, Thailand, Singapore, Hong Kong, Macau, Taiwan & Switzerland.  " Metaphysical Destiny Revivalism" is his blissful psyche power. "Metaphysical Luck Renewal" is his unconventional motto. "Destiny Victory" is his audiences' satisfaction. Master Soon has completed more than 20 years in researching the established and esoteric facets of Chinese metaphysics and mind strategies, plus unorthodox patterns of Destiny Reinventing method. and has years to his name, specializing in business feng shui consultation apart from being an adviser in enlightening and inspiring using his Untold Chinese metaphysics. He has also beeninvited by corporations in Malaysia, Singapore, Switzerland, India, Thailand, Hong Kong and China to share his knowledge. Some of his past seminars include topics on
Riding the Horse Year of 2014
Unknown yet  Effective Feng Shui Secrets
Unknown Monetary Zone
Untold Treasure Belt
Unorthodox  Way of Destiny Re-design
Untold Secrets of Luck Re-direction
Property Feng Shui for Investors,
Property Projection by Yijing Prediction
Corporate Feng Shui for Top Management
Lantern Festival Long Term Money
His proven unconventional method in luck design is effective, striking and impressive. Contact: [email protected]com or call 6012 560 3333